In an industry that heralds innovations and new products as groundbreaking and revolutionary, it becomes hard to discern what products, services, materials, and applications really fit that bill. However, one thing has remained constant in the 3D printing industry and that's the ability for Markforged to continually introduce new and improved processes that elevate not just their products, but additive manufacturing in general.
What is 3D Printing?
3D printing enables the creation of a physical 3D structure or object from a digital model created with computer-aided design (CAD).
Through additive manufacturing, 3D printing, in most forms, lays down layer upon layer of the design until it is complete. Each layer of the design represents a thin slice or cross-section of the final product.
3D printing exists in different forms, depending on the printer manufacturer and process used. Even with variations, the evolution and application of the technology have earned the attention of nearly every industry that requires designing and building objects, from construction and manufacturing to healthcare and sporting goods.
What is Markforged?
Markforged is a leader in the additive manufacturing industry and is the developer of The Digital Forge, an industrial 3D printer platform that includes printers, applications, and materials to facilitate the printing of 3D objects.
Markforged may be best known for being the first company to print with continuous carbon fiber as well as copper and other metal materials.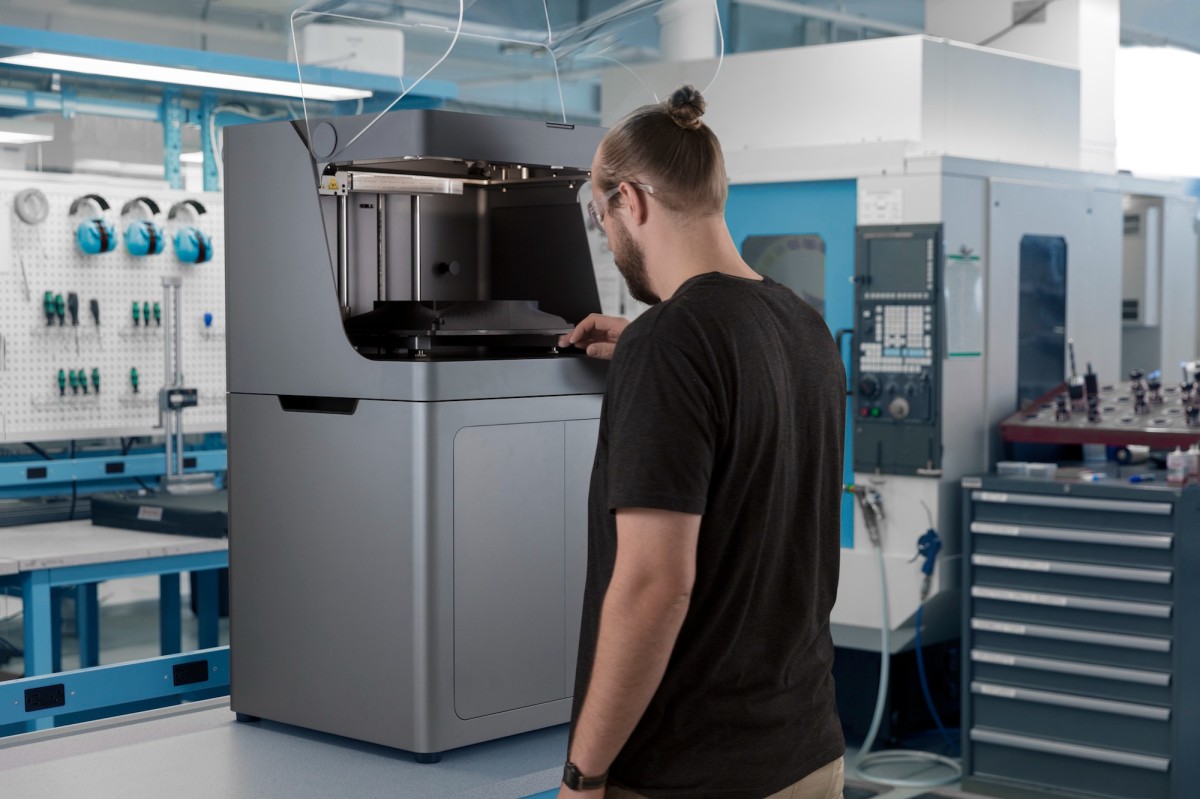 How is Markforged Different From Other 3D Printing Technology?
Over the last decade, as the demand for 3D printing technology increased, the number of companies producing 3D printers grew in response. As a result, the market can be overwhelming and so it's important for those looking for 3D printing solutions to differentiate one process from another, one company from another, and one printer from another.
For Markforged, the component that differentiates them in the market is their proprietary material called Onyx. Onyx is a nylon/carbon fiber blend material that boasts some amazing characteristics that were, and in many cases still are, outstanding within the additive manufacturing industry.
While Markforged 3D printers can use standard nylon, the results from Onyx are so impressive, it's unlikely users would choose the traditional route. In addition to being both heat and chemical resistant (vital in the aerospace and automotive parts industry), Onyx also demonstrates:
Smoother Finish: With traditional materials, layer lines are often noticeable on the surface of finished products. In contrast, those lines are barely perceivable with Onyx, meaning the finished product looks sleeker, cleaner, and crisper.
Superior Strength: Continuous carbon fiber reinforcement on each layer means the finished product is significantly stronger than products made with standard nylon. In fact, parts made with Onyx are eight times stronger than ABS and can be as strong as 6061-T6 Aluminum. As a result, each layer, and the final product, is sturdier and more stable.
Metal X: When it comes to printing metal, most 3D printers with this capability cost hundreds of thousands of dollars. In contrast, Metal X printers come in at just under $100,000, which makes metal printing more affordable for even smaller manufacturers.
Top 5 Reasons to Choose Markforged 3D Printers
Certainly printer and material choice will largely be dependent upon the application and use of the finished product, but that doesn't mean there aren't distinct reasons to make that choice Markforged.
1. Faster and More Efficient Printing and Products
As with most 3D printing, Markforged printing takes less time than traditional manufacturing processes. Excellent engineering means you can leave a Markforged printer to print overnight and return to a completed project.
2. Superior Versatility
Markforged printers offer dual nozzles, which means you can print with their Onyx material from one nozzle and choose carbon fiber, Kevlar, or fiberglass from the other. This means with a single printer you've got material options and choices not found elsewhere.
Further, Markforged products range from industrial to desktop, meaning they've got a solution for your 3D printing needs regardless of the size of your project.
3. Superior Strength
The same feature that marks the versatility of the Markforged product is also what provides the superior strength noted above. The two nozzle system means printed products have the strength of aluminum.
Further, when one factor in the potential of Metal X, which can create impressions in aluminum, stainless steel, as well as other metal powders, Markforged becomes even more impressive. Metal X products have remarkable strength and polished finishes. In fact, products are up to 23x stronger than standard plastic 3D prints.
4. Continuous Innovation
First, it was the introduction of continuous carbon fibers and the Onyx material. Then, with both Metal X and X7, Markforged revolutionized metal printing as well. They followed up the introduction of those printers with Turbo Print, which significantly increased the speed of the printer's process, earning them the 2020 Tech Innovator Award for best 3D printing innovation of 2020 from CRN.
With an eye on constant and continued improvements to the products they offer, Markforged has demonstrated a commitment to innovating with the end-user in mind.
5. Improved Quality Control
Markforged rigorously tests its printer parts for quality control, but that takes time. Conveniently, and fortunately, they just happen to have a 3D printer (Mark Two) that allows them to rapidly print and test prototypes, and then process the parts used in their printers.
Each part, like its nylon extruder preload calibration jig, goes through an intense process from design through production and beyond. When coupled with number four above (the focus and dedication to innovation), the combination produces a high-quality printer that delivers the parts you need, the way you designed them, in the most efficient way possible.
If you're ready to introduce Markforged technology to your manufacturing process, get in touch with the TPM team. We're ready to discuss how Markforged printers can manufacture your prototypes and parts with reduced time in design, testing, and production.