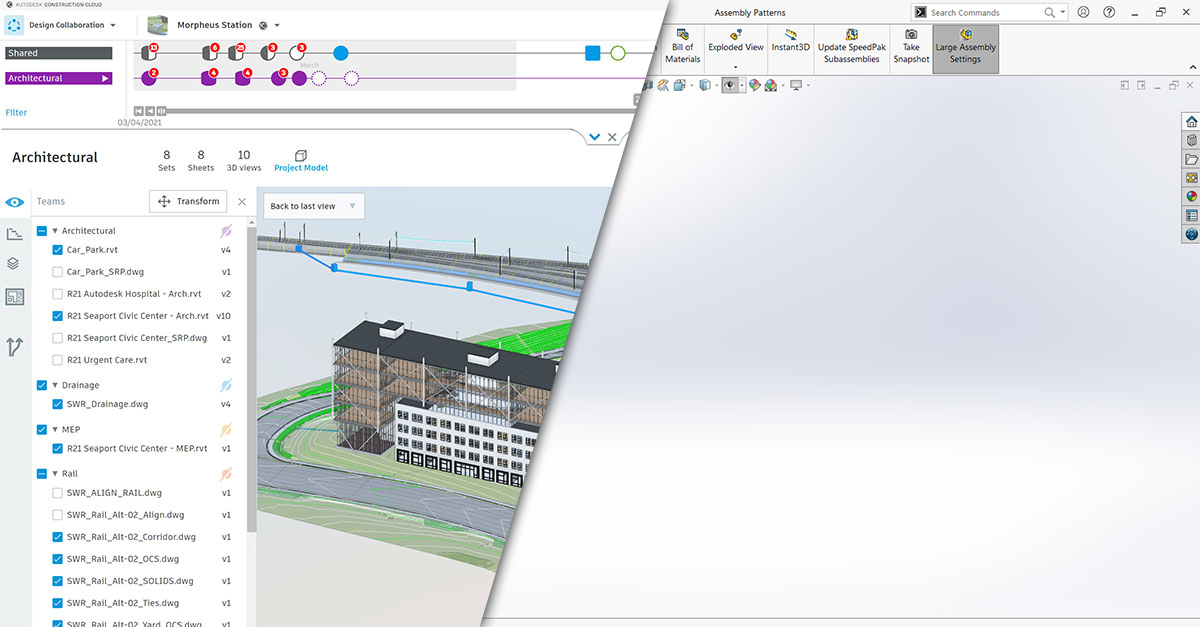 As a business leader, you're likely called on to make a lot of decisions. Some of them may seem inconsequential, and others highly impactful. Regardless, every decision you make should be made after considering the options, and when the impact may be significant, it's best to do some research first. When it comes to choosing your design software, it could have long-lasting implications for your business, your employees, and your projects. While there are quite a few options on the market, we're going to take a look at two popular choices, Autodesk vs SOLIDWORKS. Each application has benefits; largely, your decision will come down to your organizational needs.
What is CAD?
CAD or CADD is computer-assisted design or computer-aided design and drafting. CAD enables designers, engineers, architects, and builders to create multi-dimensional models of structures that can assist in determining structural integrity and feasibility. The software was created to help individuals in multiple industries create, edit, share, and optimize their designs through all phases of a project.
What is Autodesk?
Autodesk is one of the many software developers and publishers who offer suites of products for industries that utilize CAD software. While AutoCAD is likely their most well-known software, the full suite offers applications for architects, engineers, and others in the construction field. Additionally, they have applications for manufacturing and media professionals as well. In short, Autodesk covers the drafting, design, engineering, and modeling for three separate industry verticals.
Their software offerings focus predominantly on modeling capabilities and add-on applications that supplement, enhance, or round out their foundational applications.
What is SOLIDWORKS?
Like Autodesk, SOLIDWORKS offers CAD software with additional add-on applications to round out functionality and enhance capabilities. Similar to Autodesk, the software is used to plan, design, and model structures whether the needs are mechanical, physical, or electrical. Within the application, users can then test their designs for feasibility. Additionally, it also offers project management capabilities as well as management, analytics, data automation, and cloud services.
Top 3 Benefits to Choosing Autodesk
Autodesk, which has functionally been around since 1982, offers a robust suite of software and products. As we look at the benefits, we'll try to take a holistic view of the software/applications and discuss the overall offering rather than focusing on a single product. However, the foundational product upon which all the other offerings are built around is AutoCAD, so some of our analysis may appear to hone in on that product.
1. Versatility
One of the most significant assets of the Autodesk portfolio is its versatility. From access to drafting/design and collaboration, they've covered all the bases.
In terms of access, Autodesk's cloud storage and mobile applications mean you or your team can access your software and projects from anywhere. When you're working with a large team or just one that's spread out geographically, continuing to share work and collaborate is essential to staying on track. It means whether you're in different time zones or on the go, your team can communicate, modify, and more.
In terms of product offerings, Autodesk software covers everything from, quite literally, the ground up. In particular, in the AEC industry, you can prepare for all aspects of a design and build from grading through electrical infrastructure and clash analysis. The complete AEC toolset gives you full control over a building site from start to finish.
2. Features
Plain and simple, Autodesk is loaded. Regardless of the collection you choose (they offer 3: AEC, Manufacturing, and Media), you'll find just about everything you'll need as a standalone or add-on to your selection. From AutoCAD to Revit and Civil3D, Autodesk has taken care to make sure each application includes the toolset you'll need to complete your project.
As noted above, starting with AutoCAD, which appears in both the AEC and Manufacturing collections, the main features include:
3D modeling, scanning, navigating, importing, and visualization
Photorealistic rendering
Solid, surface, and mesh modeling
PDF and DGN Import/Export/Underlay
Photo Studio
Base, projected, and section views
Data extraction and linking
Smart dimensioning
Layouts and layout viewports
Revision clouds
DWG and image references
Reference Navisworks models
Customizable tool palettes
Dynamic blocks
2D drafting, drawing, and annotation
Object Selection and Isolation
Multifunctional Grips
Geographical location and online maps as well as integration with other mapping software
Cloud collaboration and storage
And more!
As one can imagine, each application offered in the Autodesk product line, which offers over 90 different products, includes a comprehensive set of tools and features to enhance its functionality, simplify repetitive tasks, and improve the user experience.
3. Support/Training
Autodesk and its specialized partners offer unprecedented support and training opportunities. Whether someone is seeking Autodesk certification, taking advantage of the many educational resources available online and through partners, or simply looking for help in solving a particular challenge or problem, you've got a team to help you. In fact, depending on the plan you purchase, assistance may be available to you 24/7. That's invaluable if you're working across time zones.
Further, when you choose your Autodesk partner, you'll want to choose someone who's familiar with your industry, your business, and can help align your goals with the Autodesk applications that will help you get there.
Top 3 Benefits to Choosing SOLIDWORKS
SOLIDWORKS, around since 1993, offers a complete solution for CAD as well. When comparing it with an Autodesk product, it's most comparable to Autodesk's Inventor and really focuses more on engineering and design within the manufacturing industry. Much like Autodesk, the software functionality also encompasses the project management and administration aspects, offering communication and collaboration tools.
1. User-friendly
One of the most consistent pieces of user feedback is the ease of use and friendly and customizable GUI (graphical user interface). When many highly technical applications have a steep learning curve and are unwieldy in terms of tools and functionality, SOLIDWORKS is quite well known for being incredibly accessible, especially for newer users. Like all applications, the more one becomes familiar with its tools and functions, the more flexibility and complex solutions can be explored, but right out of the box? It's intuitive and useful.
2. In-depth design analysis
The ability for SOLIDWORKS to allow designers to "challenge" their models is significant. Because SOLIDWORKS enables the design of complex surfaces and more, feasibility testing is essential. However, SOLIDWORKS testing goes beyond that. Not only can users complete complex motion analyses, but the FEA testing also enables users to test for cost and durability. Understanding a product's durability saves time and money in expensive prototyping which must undergo real-world testing. In contrast, SOLIDWORKS facilitates testing before production allowing engineers and designers to confidently correct issues and move into the production and manufacturing process.
3. Functionality
One of the advantages of working with an application that's got an intensive focus like SOLIDWORKS is that it does what it does very well. Regular updates (the latest in 2022) are typically fueled by feedback, so functionality is improved in direct response to how the software is being used. As a result, users get a more robust experience including but not limited to:
Automation of repetitive tasks
More flexible assembly modeling enhancements
Interference detection
Performance enhancements in speed and configuration manipulation
More flexible parts design
Improved electrical design features for routing
Enhance simulation tools
Data management and cloud collaboration tools
Autodesk vs. SOLIDWORKS: Choosing What's Best for You
What's likely clear, at this point, is that choosing the best software tool is highly subjective. It's got a lot to do with your individual needs, your industry, in some cases your budget, your team, and, in the case of SOLIDWORKS, your OS (operating system) as SOLIDWORKS does not work on Mac. While we always recommend asking an industry expert and authorized partner of these products, here are a few questions you'll want to ask before making a purchase:
1. What will be its primary use?
The answer to this question may be the big picture, such as what industry you are in, or the smaller picture, such as do you need drafting capabilities? Because each of these software tools offers different capabilities, identifying what the specific needs are is essential.
2. How much support do you need?
As we've highlighted in the past and above, Autodesk offers a lot of support, both officially and unofficially, but also has a steeper learning curve. Similarly, SOLIDWORKS provides technical support, as do their partners. While there aren't as many supplemental support services available online (blogs, tutorials, videos, etc.) that may have more to do with its notoriously user-friendly application.
3. What is your budget?
While both products offer different pricing structures, depending on your application and support needs, knowing what you can spend now and moving forward may guide your decision. In considering this question, you'll want to consider the number of users and how integral the software is to your business and its growth.
4. Is the application/software compatible with existing systems and software?
While both solutions integrate well with other software, there are limitations. Further, there are restrictions on file types and, in the case of SOLIDWORKS, operating systems. Ensuring that your new software works seamlessly with existing tools is vital.
While those certainly aren't the only questions you should ask, they are the big ones. Additional support and advice can be provided by expert consultants in your industry and with your software options. If you're ready to talk about how CAD software can streamline and optimize your projects, whether manufacturing or AEC, get in touch with the TPM team today!