Old habits die hard, they say. Nothing rings truer than this phrase when it comes to developing a process of storing manufacturing documents and files. In 2006, SOLIDWORKS launched PDMWorks Enterprise, later going through various renames before landing on the existing SOLIDWORKS PDM Standard and Professional levels. Dare I say that today, because of SOLIDWORKS PDM, old habits may die a little easier? Let's dive in and take a look at how efficient file storage and collaboration can be.
The Days Before PDM
Before the release of SOLIDWORKS PDM, the only way to find the data files and documents you needed was to skim through various folders looking for a particular file name. This naming convention utilized to name these files was usually inconsistent, leading to even more issues as the accuracy of file names is thrown entirely out the window. In my 14 years of working with SOLIDWORKS PDM and manufacturing customers, I still see many users relying on their old ways today. I also recognize dependence on complicated folder structures and file naming conventions, like intelligent numbers, to assist users, usually failing to do so.
Your Solution to Navigating the Complex Folder Structure Jungle
One of the significant advantages of SOLIDWORKS PDM is the SQL server database that stores information about various documents. Users can leverage this "meta" data to search for the files they need without navigating through a jungle of complex folder structures. Even the folders themselves in SOLIDWORKS PDM can contain information that is searchable in PDM. The file references for SOLIDWORKS and other 3D CAD files are exposed to allow the users to find associated files using their relationships. You can even create links between documents to relate them.
In the 2020 release, SOLIDWORKS PDM added a new Quick Search capability. I liken this to a Google search for PDM. By default, search results only include file and folder names; however, a system administrator can configure up to five variables, allowing you to filter out files and folders more easily. There is an option to search in all folders, the current folder, or the current folder and sub-folders. You can also use operators like AND (&), OR (|), and NOT (!) to create more complex searches. For example, I could search for all files that contain "2018" and a description containing the words "shaft" or "plate." Quick Search also retains your most recently used search criteria, making it a piece of cake to reuse previous search inquiries quickly.

A system administrator can also create custom search cards that focus on the critical information that groups within your company use to find the documents they need. For shop floor users, this could be as simple as having an entry for the part number. For purchasing, it could be entries for vendor names and manufacturer part numbers.
Configuring SOLIDWORKS PDM to Work for You
Of course, a PDM user must add the information to the files and folders to have the ability to search for them. The "meta" data information, in some cases, can be added automatically. A system administrator can also configure SOLIDWORKS PDM to require some fields, focusing on the data that users will commonly use to find their documents. In good practice, avoid adding data that users are not likely to search on. By adding unused data, you will unnecessarily take up space in your database. For example, even though the system can read the SOLIDWORKS material, will anyone need to search by material?
You can choose to use the File Explorer Details view to review variable values for your search results. File Explorer Details view will give you the all-familiar look of utilizing File Explorer, but with the search capabilities of PDM. An often-overlooked capability is to use the "Large" or "Extra-large" icons view to see the files' thumbnails easily. These views allow you to filter your result even further visually.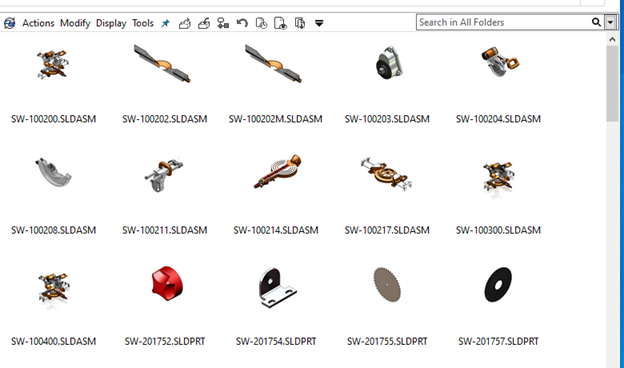 Reusing existing designs reduces not only your work but also the downstream cost of redundant components. PDM search enables you and your company to work more efficiently by minimizing the time it takes to find information quickly. Need help developing processes to work more effectively? Contact our team today.