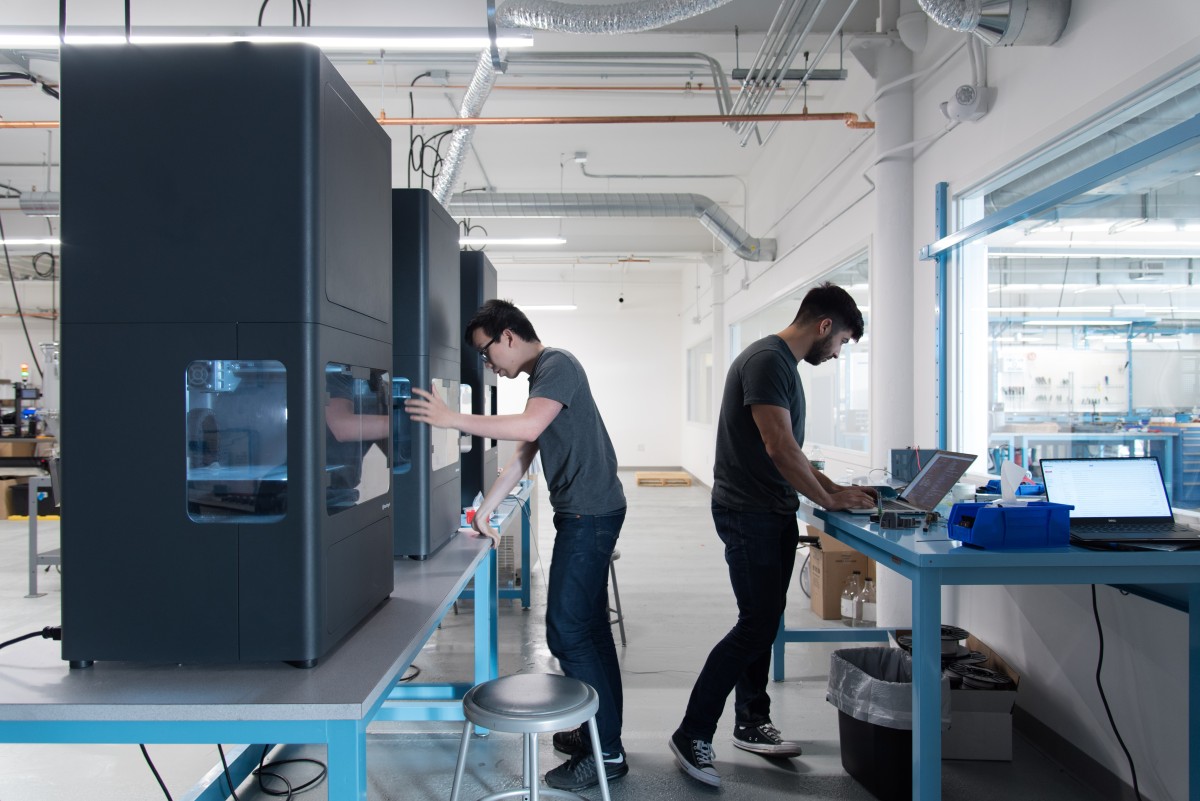 The 3D printing world was, for some time, marked by its use of thermoplastics for parts production. While thermoplastics have material characteristics that made them valuable in their own right, for the technology to really grow and expand it was clear to many that, in addition to the development of new printer technology, materials would also need to be explored. That's where Markforged's innovations came in. The introduction of Onyx and continuous carbon fiber changed the way many industries viewed additive manufacturing.
What is Markforged?
Markforged is a 3D printer platform company that designs and develops the hardware, software, and materials needed to create 3D printed objects. Through modification of the fused filament fabrication process (material extrusion), Markforged was the first company to introduce continuous carbon fiber reinforcement through the introduction of a second printing nozzle.
That second nozzle allows Markforged printers to use composite materials that are stronger than traditional thermoplastics but also opened the door for the introduction of metal printing. Given those groundbreaking developments, Markforged solidified itself as an industry leader in additive manufacturing.
How is Markforged Different?
When Markforged introduced a second printing nozzle, it changed the 3D printing game. The introduction of continuous carbon fiber significantly enhanced the strength, and thus utility, of 3D printed parts. More specifically, where Markforged materials and processes really differentiate themselves is in that infill.
While the exterior of a 3D printed object determines its shape and dimensions which impact the performance, infill is a bigger determinate when it comes to the performance because it affects the strength. More specifically, infill is usually a specific shape, such as a triangle, laid out like tiles across the interior of the object. Because of their load distribution, triangles are used most often, but other shapes are also possible.
Utilizing materials like carbon fibers or Kevlar in infill, the Markforged printer reinforces the strength of the printed object and significantly improves mechanical properties like impact resistance. In short, Markforged's redesign of the FFF process to include the second nozzle introduced industry-changing composite materials to 3D printing and established the company and its platform as a leader in additive manufacturing solutions.
Markforged Materials
As noted above, the cutting edge design of the printer to enable new composite materials was an important development that enabled the introduction of metals and more to the additive manufacturing world. The hardware and the new materials both had a huge impact on the industry. Let's take a closer look at some of those materials.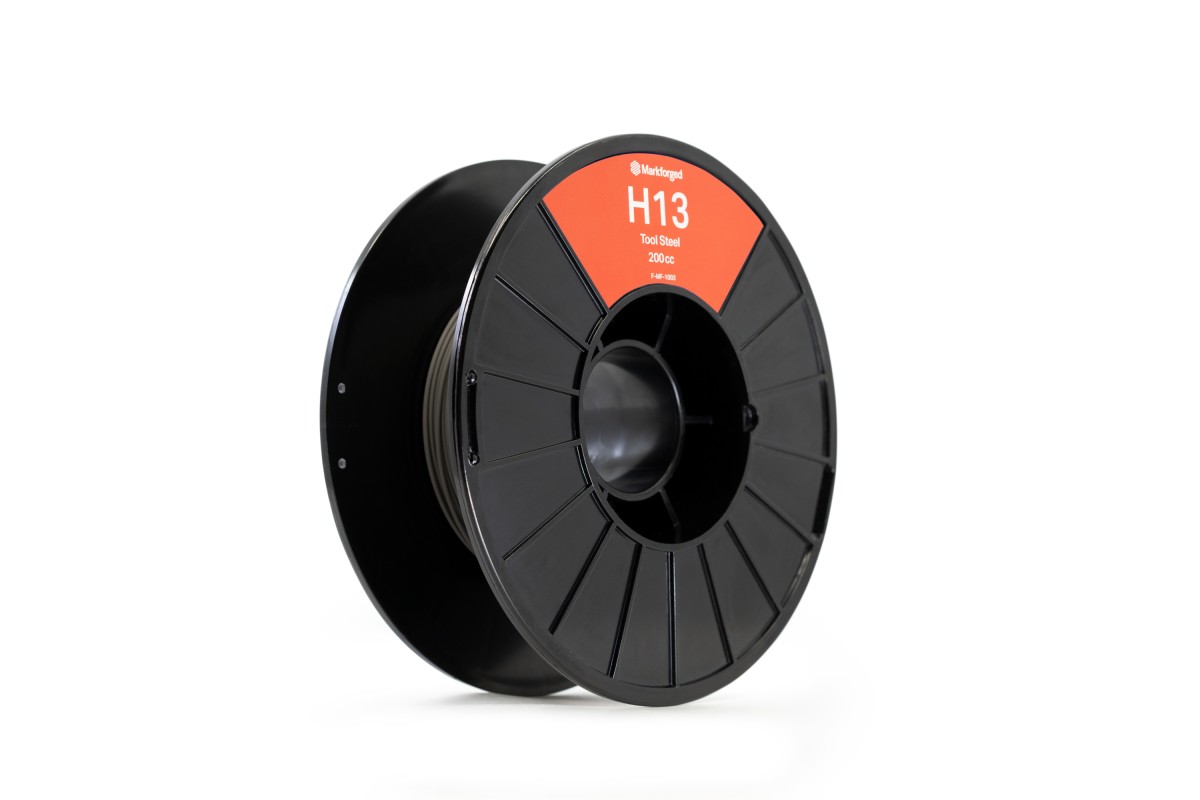 Metal Markforged Materials
Obviously, the ability to print with metal materials (though in truth the metal comes out in a 3 step process of printing, washing, and sintering) has created significant opportunities in manufacturing to create solid and reliable materials more quickly than traditional manufacturing processes. In fact, Markforged has introduced several metals that are among the most useful in applications across multiple industries due to their physical and mechanical properties.
17-4 PH Stainless Steel
Stainless steel is among the most versatile metals for industrial applications because of its durability and strength as well as its ability to resist heat and withstand parts washing processes. Markforged 17-4 PH Stainless is heat-treatable to 36 HRC and boasts 95% wrought strength.
Copper
Because of its conductivity, copper is often sought for industrial uses and comes with significant labor and cost demands in traditional manufacturing settings. Markforged's copper actually conducts heat and electricity better than alloyed copper and can be used in all applications where copper is the best option.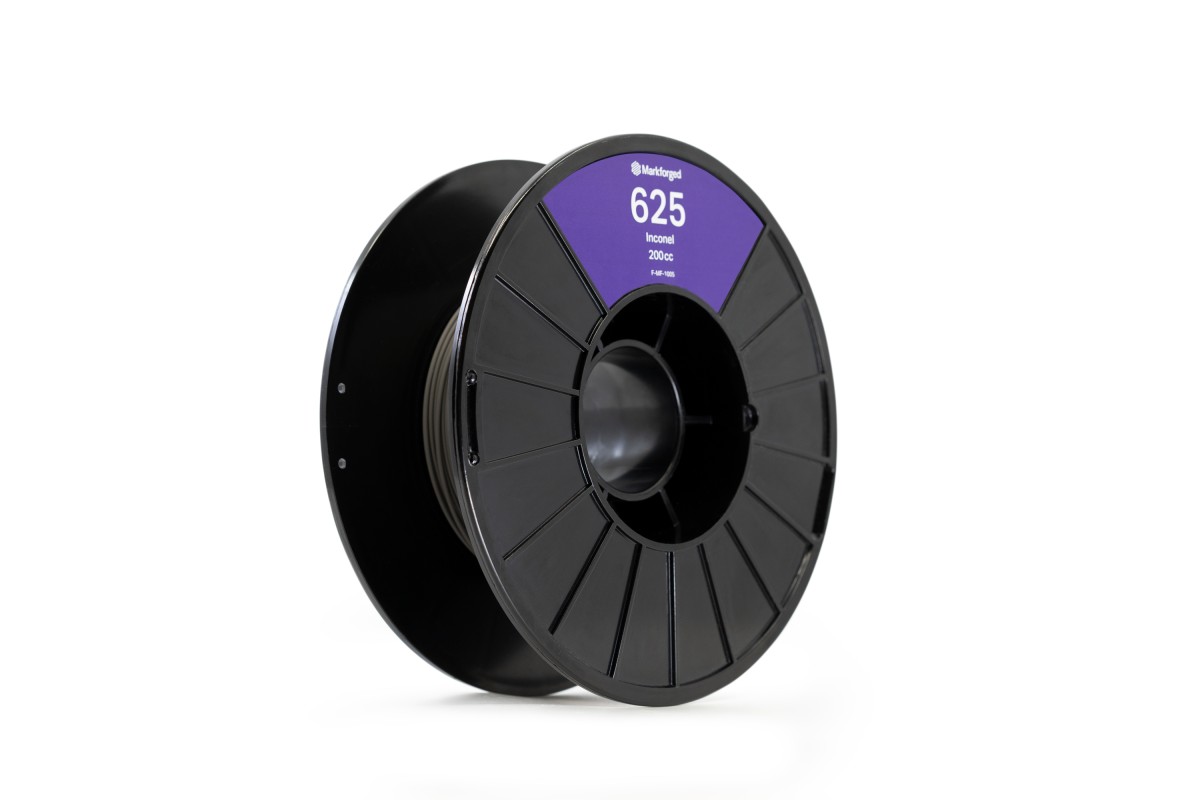 Inconel 625
Inconel is a nickel-based alloy resistant to corrosion and able to withstand high temperatures making it invaluable in manufacturing sectors that require parts to withstand washing processes such as automotive and aerospace parts. Markforged Inconel 625 meets the chemical requirements of ASTM B443 and maintains a UTS of 500 MPa at 600ºC.
H13 Tool Steel
Tool steel is named because the steel itself is well-adapted to creating tools, but H13 is also stronger than stainless steel, resistant to abrasions and deformation, and able to withstand high temperatures as well.
A2 and D2 Steel
These two steel materials are particularly valuable due to their hardness. While A2 is the tougher of the two, D2 is more wear-resistant. These characteristics make them incredibly useful for cutting and forming tools where hardness is crucial.
Composite Base Markforged Materials
Markforged's reputation in the additive manufacturing industry is built upon its printers and its innovative Onyx composite base material. Onyx is a highly versatile micro carbon fiber-filled nylon that produces strong, durable, chemical resistant parts with a superior finish. Onyx itself comes in 3 different formulas that feature different characteristics.
Onyx is the foundational composite material. Onyx FR adds flame retardant to the already impressive list of Onyx characteristics. Onyx FR earned a UL Blue Card and is considered self-extinguishing making it an excellent choice for parts that must be non-flammable.
Onyx ESD demonstrates all of the characteristics of the base Onyx material but is resistant to electrostatic discharge. Onyx ESD is stronger and harder than Onyx but offers the same surface finish.
Nylon is an unfilled thermoplastic traditionally used in 3D printing applications. It's easily dyed and non-abrasive.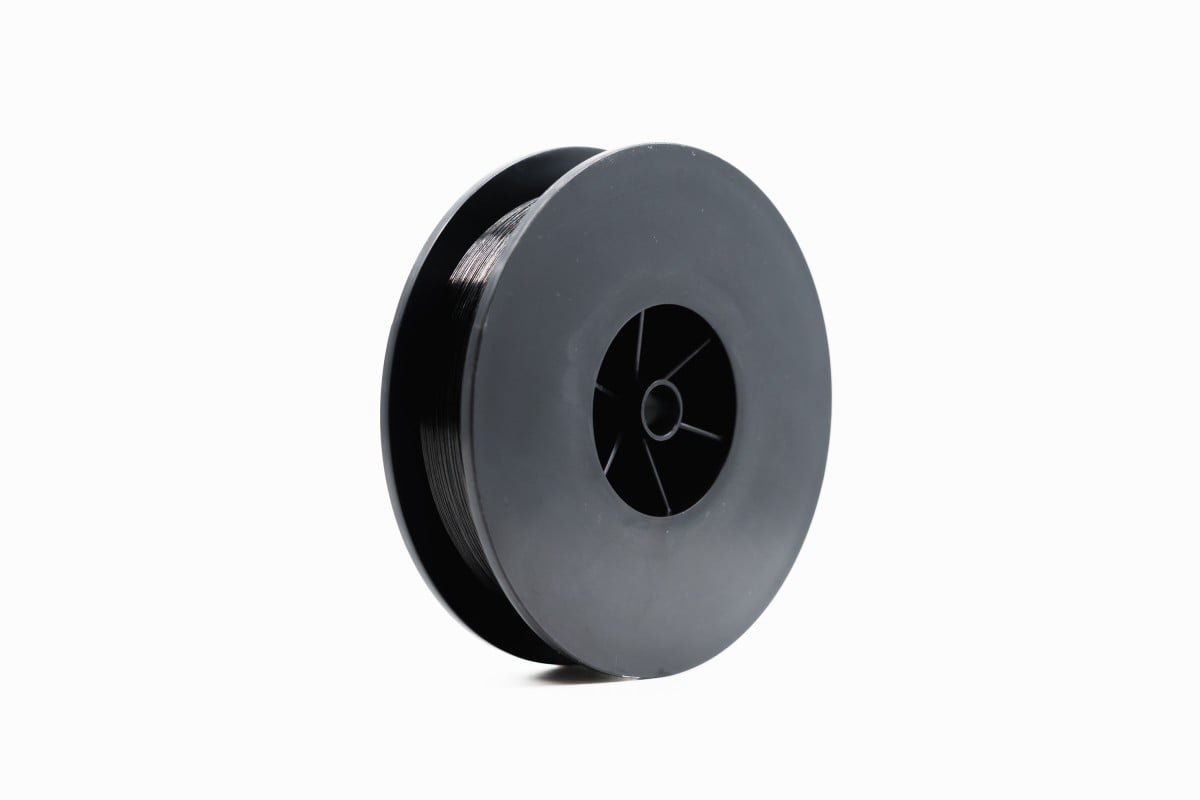 Continuous Fiber Markforged Materials
The flagship material of Markforged printers, continuous carbon fiber is what enabled Markforged to begin printing parts as strong as aluminum when paired with another material such as Onyx. Similar to Onyx, Markforged offers options to enhance existing characteristics.
Carbon Fiber FR
Like Onyx FR, Carbon Fiber FR features all the strength, durability, and precision of carbon fiber with flame resistance.
Aramid Fiber (Kevlar)
Need something tougher than carbon fiber? Aramid Fiber, known commercially as Kevlar helps create parts that are not only tough and durable but are also impact resistant and virtually incapable of fracture.
HSHT Fiberglass
HSHT stands for high strength high temperatures as in this fiberglass can more than handle both. These parts are not as stiff as those made with carbon fiber, however, they are excellent for parts exposed to extreme temperatures, both high and low.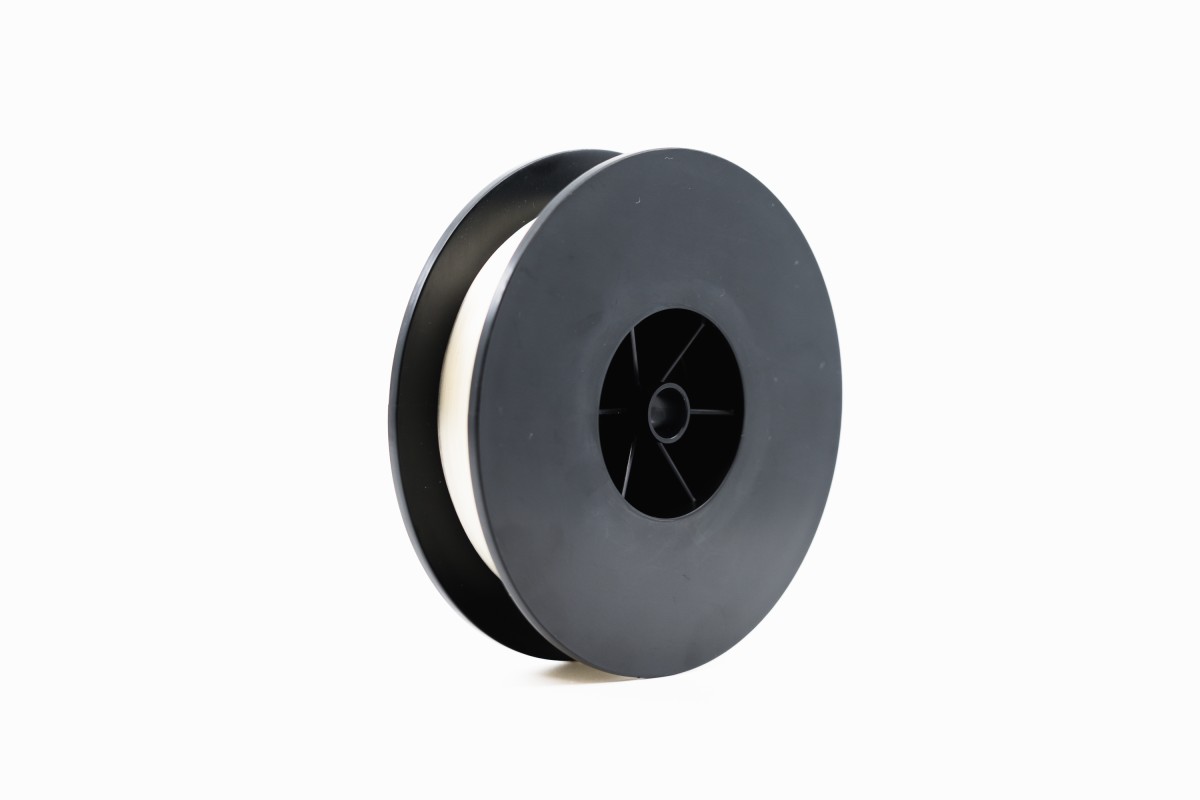 Fiberglass
Again, not as stiff as carbon fiber but fiberglass, when combined with Onyx, can produce parts that are 10x stronger than the thermoplastic ABS which is traditionally used in some 3D printing processes. It is also a more affordable option than carbon fiber.
Markforged 3D Printing Applications
3D printed parts are now used across multiple industries to produce parts that have long been manufactured through traditional manufacturing methods. In fact, for industries that rely upon on-demand parts like the aerospace and automotive industries, 3D printing is a great option. Industries using Markforged 3D printed parts include:
Aerospace– Especially when it comes to maintenance, repair, and overhaul (MRO), the aerospace industry needs parts that are strong, durable, temperature and heat resistant, and able to pass strict regulatory requirements.
Automotive– Much like the aerospace industry, automotive manufacturers and original equipment manufacturers (OEM) have strict parts safety standards and must be sure the parts being produced maintain their integrity.
Consumer Goods– Whether it's creating fast prototypes for design and testing or producing goods for the market, everything from hairbrushes and razors to sporting goods, additive manufacturing is used by major manufacturers to bring products to market faster while saving money.
Education and Research– Not only are Markforged printers and applications used at major universities to train the next generation of engineers and additive manufacturing experts, but 3D printed parts are also used to train our future doctors and dentists.
Electronics– The electronics industry is fast-paced and change comes quickly. Keeping up with the competition, research and development, and advancements in technology is difficult if a company can't keep up. 3D printing is invaluable to stay up to speed.
Energy– One of the biggest challenges in the energy industry is keeping up with demand. That means being able to quickly solve and respond to problems, particularly when those problems present unique challenges. Being responsive sometimes means creating the right tools to solve those problems and restore power to customers. 3D printing enables the energy industry to be agile and responsive.
Government and Defense– One of the biggest concerns for industries as well as governments, particularly when it comes to defense, is ensuring that manufacturing methods are secure and safe. Markforged's platform is the only one with ISO 27001 certification, meaning it keeps your designs and works securely. Much like other industries, being able to respond to tooling and part needs on-demand, without delays from a supply chain. 3D printing is the ultimate solution for on-demand parts.
Industrial Equipment – It's manufacturing for the manufacturing industry. Supply chain issues are no joke, nor is downtime, and being able to print parts on demand to prevent either issue can be a distinct competitive advantage.
Medical – It's not just medical students using 3D printed parts, but the doctors and dentists in the field are using parts as well. From tools of the trade to prosthetic devices, the applications in the medical field are challenging the industry in ways that drive innovation.
Product Development – This application crosses industry lines as 3D printing enables businesses to develop prototypes and refine those designs as needed based on testing. Further, for low-volume manufacturing, 3D printing is a great solution.
If the industry isn't listed here, it's wholly possible they're using 3D printed parts or they will be soon. As the additive manufacturing industry continues to grow and evolve, as it continues to be responsive to all the possibilities, wider adoption of platforms like Markforged should be expected.
Whether it's on-demand parts, rapid prototyping, or more cost-effective precision parts, If you're ready to see how Markforged can help your business grow, get in touch with the TPM team today.